While this is a collaborative effort, you must become your own advocate if you want to see any resolve to your personal situation.
FACE THE LION
Being buried under crushing debt is both terrifying and exhausting. There are many resources presented below that can help you navigate your predatory student loans. We are not lawyers and can not give you legal advice. This is going to be emotionally taxing, but time is not on your side. We are actively pursuing several legal avenues. We cannot guarantee those who wait to take action will be included in our efforts.
 GET ORGANIZED
Create a folder on your computer/cloud to organize everything you find here that applies to your specific period of enrollment or that you would like to use in your defense  in a lawsuit or application for Borrower's Defense to Repayment. Google Drive and Dropbox are some of our recommendations. As you gather all your loan information put it all in one place so you may access it easily. 
TAKE ACTION
While we are making efforts as a group, You are responsible for managing your loans and fixing your personal situation.
We are a very small group. Every person who takes action on their loans makes the group that much stronger. Time is not on your side. Please consider starting today. 
How much do you owe and to whom? Federal and Private loans are governed by very different laws. Loan forgiveness and litigation options depend on the exact type of student loan/s you have. 
– // Loan Types & Servicers // –
Credit Monitoring
Your credit history will show who is sending information about your loans to various credit reporting agencies, and can help you determine whether or not they are private or federal loans. We recommend creditkarma.com  
Private Loans
Private loans originate with a bank, credit union or online lender. They follow a separate set of rules, regulations and consumer protections and are considered time-barred debt.
National Student Loan Database (NSLDS)
Your federal loans and their status will be listed here. You can find your servicer and manage your consolidations here. 
Borrowers Defense to Repayment
Student loan Bill Of Rights
Borrower Defense to Repayment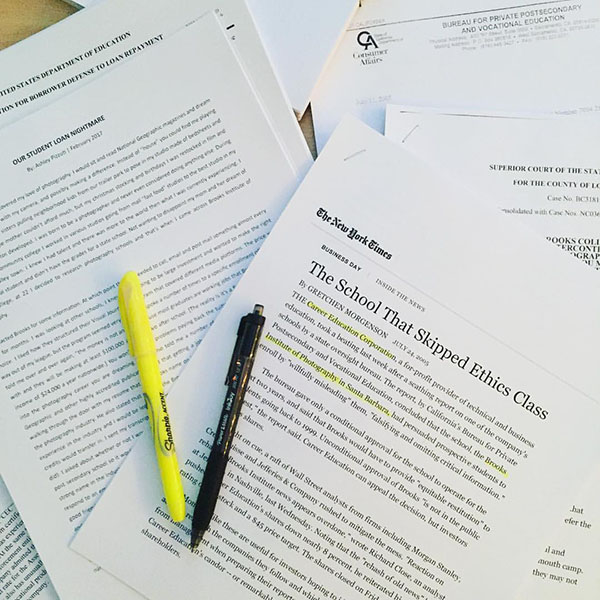 Borrower Defense to Repayment is a program through the Department of Education that stipulates that your federal student loans can be discharged (forgiven) if  your school engaged in activity that violated state laws, such as giving you false or inflated graduation and job placement rates.
Under former Secretary of Education Betsy DeVos, processing of Borrower Defense applications ground to a halt. However, one former Brooks student took the fight to federal court to restart the processing of BDTR applications. Litigation of this lawsuit is ongoing (see Sweet v Devos, now known as Sweet v Cardona due to the change in Secretary of Education). 
Per our legal guidance, BDTR is the only program that will allow Borrowers a reprieve from the burden of federal student loans taken out to attend scam schools. Critically, it may also help set a precedent to pursue legal action against repaying our private loan  as well.
Save your application often and write your answers out in a separate document 
STEP 1 – GATHER YOUR DOCUMENTS 
Transcripts can be found at parchment.com

 

Download files from the Document Catalog
Find any paper documents you may have saved.
Find any old Brooks emails
Download our Group Statement PDF
STEP 2 – FILL OUT THE APPLICATION 
We highly recommend copying the questions & your answers into a separate Word file. The application is known to time out. You may also have these questions pop up beyond BDTR and it's good to just have them on hand.
Sign in or create an account then follow the steps. studentaid.gov/borrower-defense
Save and/or print a copy of what you have submitted for your records.
 STEP 3 – PRINT & MAIL – Optional
Several of us want to create a paper trail of our applications and have also sent  hard copies of our BDTR applications to the Dept. of Education. You should consider sending it with delivery confirmation and with a note that explains that this is not an *additional* application, just a hard copy of your digital application. 
US Department of Education – Borrower Defense to Repayment, PO Box 1854, Monticello, KY 42633.
STEP 4 – FOLLOW UP 
Within a few days, call the DOE BDTR hotline to make sure they received your application. Write down your Application ID and keep it with your files.    
855-279-6207
You can add more files anytime by emailing the DOE with your application ID in the subject line. 
FILE SIZE: The application can get buggy with large file uploading. Make sure your files are optimized if you can and save along the way.
Direct Loan Consolidation
Per the Department of Education – BDRT website most federal loans are included, however, they need to be consolidated to a direct loan through the government. It also gives you an opportunity to change servicers away from bad actors.
"For the purposes of borrower defense discharge only, we interpret the term "Direct Loan" in 34 CFR 685.206(c) to include Direct Consolidation loans. This interpretation enables borrowers with loans eligible for Direct Loan consolidation, including Federal Family Education Loan (FFEL) Program loans or Federal Perkins Loans, to avail themselves of the borrower discharge process provided here by consolidating such loans into the Direct Loan Program.
Timeline of Events
 June 25, 2019 - Sweet vs. Devos is filed
October 25, 2019 - Class action is granted. Over 200k class members.
April 10, 2019 - Settlement was reached. The DOE has 18 months to process applications submitted before April 1, 2020. The DOE must not collect on the debt while the application is processed and all interest acrude must be credited back. If the DOE does not comply the borrower receives debt discharge of 80%. The DOE must report every 90 days. 
May 21, 2020 - The judge granted preliminary approval of the proposed settlement.
June 2020 - DeVos  "blanket denies" 94% of BDTR claims; most class members receive denial letters
September 17, 2020 - Motion was filed to enforce settlement.  
October 1, 2020 - Public Fairness Hearing. Unprecedented 500 attendees via zoom. Many Brooks Borrowers stood up and shared their stories. Several hundred class members used the chat to tell their stories, commiserate, and plead for justice. The court allowed the zoom chat to be filed as official court document.
October 19 2020 - Judge files order denying settlement, for discovery in both documents/depositions and for the DOE to stop issuing denials. Calls the mass denials 'Disturbingly Kafkaesque' 
January 7, 2021 - DeVos resigns
January 11, 2021 - Letter filed requesting deposition of DeVos for discovery.
March 1, 2021 - Miguel Cardona confirmed as new secretary of education. Case changes name to Sweet vs. Cardona
March 18, 2021 - Plaintiffs' filed an 600 page Amended Complaint citing new evidence that the U.S. Department of Education not only illegally delayed processing borrower defense claims, but created a sham process designed to deny borrowers debt relief regardless of evidence.
May 19, 2021 - DeVos motion to quash is denied. Judge, "this order impresses upon the parties that our failed settlement and term of discovery have delayed the just resolution of this case long enough already. Diligent haste will be expected."
June 2021 - The DOE starts approving BDTR claims for select bad actor schools.
July 6, 2021 - Project on Predatory Lending founder, Toby Merrill, has been hired by DOE to serve as deputy general counsel.
Who is included in the class action?
Sweet vs DeVos class members consist of anyone who has flied a Borrower Defense claim prior to December 2019 and had not received a decision on their claim. You do not need to do anything to become a class member and there is no option to opt out.
The class is represented by two non-profit legal services organizations that provide free legal services, the Legal Services Center of Harvard Law School and Housing & Economic Rights Advocates in California.
What does this mean for Brooks Borrowers?
Theresa Sweet, as the named plaintiff, has put the name Brooks among some of the most recognized "bad actor" schools in the nation such as ITT, and Corinthian. Our work in uncovering CEC/Brooks corruption and our persistence in advocating for forgiveness and reform has put us in the right place at the right time.
This class action was created because hundreds of thousands of students had been waiting for years for legal, merit based decisions on their claims for Borrowers Defense to Repayment.
Should we win this case, it is possible that all federal Direct loans will be forgiven for class members who have filled out a Borrower Defense Application. This forgiveness would be tax free and the loans would show as  'paid in full' on credit reports.
We hope that with successful BDTR claims will come the ability to legally go after private lenders for forgiveness as well. In fact, there is already ongoing litigation around this issue (Villalba v Cardona).
Where can I find more information about the case?
I got a Denial Letter, what do I need to do?
If you are a class member and received a denial letter while Sweet v DeVos is ongoing, the court has asked the denials be discounted, loans should be put back into administrative forbearance until the end of the case. From our understanding, you do not need to reapply and your loans should not be put into repayment. If your lender does try to put you into repayment, do not ignore their communications- contact them, preferably in writing via USPS with delivery confirmation, and tell them that you are a class member of Sweet v DeVos/Cardona and that your loans are supposed to remain in Administrative Forbearance until the case is resolved *by order of the presiding judge in the case*. 
What is the statute of limitations?
The Consumer Finance Protection Bureau (CFPB) defines the statute of limitations on debt as: "The limited period of time creditors or debt collectors have to file a lawsuit to recover debt." This is only for private loans. Federal loans do not have an SOL.
When does the statute of limitations start?
This is going to depend on your state laws and how your contract is written. For most states it's the first day of your default. 120 days after your last payment.
The last payment you made. Let's say you live in a state with a six-year statute of limitations and last made a payment in January 2019. Your creditor would have until January 2025 to sue you over the past-due debt.
The first payment you missed. Based on the example above, the statute would now last until February 2025, since February 2019 would have been your first missed payment.
When your loans defaulted. Default timelines vary for private loans. The Consumer Financial Protection Bureau says the average length is 120 days, but loans can also enter default after a single missed payment. – Nerd Wallet
Can you restart the statute of limitations on student loans?
Yes! Making any payment towards the defaulted debt will restart the clock. Sometimes, even promising to make a payment can restart the clock. 
The Fair Debt Collection Practices Act (FDCPA) prohibits debt collectors from using practices that trick you into restarting the statute of limitations. If you feel that this has taken place, contact a lawyer and submit a formal complaint to the Federal Trade Commission.
How long is the Statute of Limitations?
Typically, your loans are subject to the statute of limitations for the state you live in. But if you're sued, the court may use a different statute based on where the lawsuit was filed or language in your loan's paperwork. – Nerd Wallet
Check here for a list of how private loans differ from state to state: Credible – List by state
Will defaulting AFFECT my credit?
Yes, your credit score will drop substantially as will the credit score of any cosigner. However, with careful planning it can be repaired in a few years. After 7 years the account will fall off your credit and that of your cosigner. It doesn't mean you no longer have that debt, but the servicer cannot successfully sue you and it will no longer affect your credit.
*** It is CRITICAL to note that intentionally defaulting on any of your student loans (sometimes called Strategic Default) is risky and does not come without the potential for serious legal ramifications. The government can garnish wages and take money from you even without a court judgement or order; private lenders can also sue you.***
What happens after the statute of limitations passes?
If a creditor does not know the statute has expired, it can still take you to court — never ignore a summons about your debt because a judgement can still be issued against you if you do not show up in court. You can present a defense that your student loans should be considered "time-barred," or no longer collectible, based on the statute of limitations.
Even if the court agrees with you, your creditor may still be able to contact you about the debt, depending on your state's laws. But it wouldn't have access to collection tactics a court judgment could have enabled, like garnishing your wages or placing a lien on property you own.
Student Loan Bill Of Rights
Since 2014, over a dozen states—California, Colorado, Connecticut, District of Columbia, Illinois, Maryland, Maine, Massachusetts, New Jersey, New York, Rhode Island, Virginia, and Washington—have passed legislation to establish a Student Loan Borrower Bill of Rights. At least another dozen additional states are on track to pass similar legislation by the end of 2021.
A Student Loan Borrower Bill of Rights offers critical protections seen in near every other consumer finance market.
Please look up your states initiatives and get involved. The more states that protect borrowers the easier it will be to set a federal president. Vote at a state and local level for folks who have your back.